When you buy an apartment, one of the main reasons of purchasing it is to enjoy a secured and comfortable lifestyle in a healthy environment. No matter how many times we talk of environment pollution, many times we fail to maintain a healthy environment in our own home with neglect and ignorance. Here are 5 things you need to consider to promote a healthy apartment living atmosphere:
Exhaust fan in proper places
The most common place for odors and moisture accumulation is your apartment kitchen. Make sure this area is well ventilated. Always remember to turn on the exhaust fan while cooking and after finishing leave it on for a few minutes until all the moisture has dissipated. You should also clean the exhaust fan at least once a month to prevent dust and grim from building up. This will maintain the efficiency of the fan and provide you with a healthy apartment living atmosphere.
Ventilation in bathroom
After your kitchen, your bathroom is the room where moisture can accumulate over time leading to mold growth, germ spreading deteriorating living conditions in your apartment. Try to keep a dry bathroom, especially during winter season. Remember to leave the bathroom windows open for some time during the day to allow circulation of air. You can also keep a bathroom mop to wipe the floors after you have taken a shower to keep floor tiles clean and dry to prevent untoward accidents.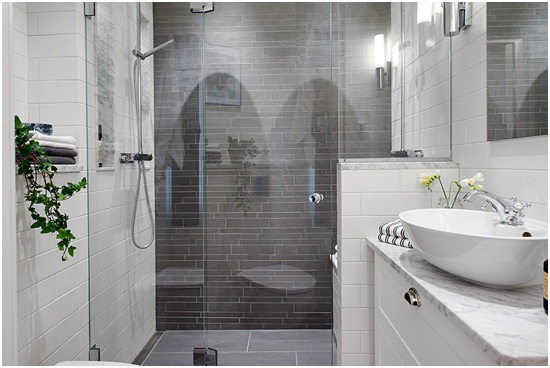 Avoid high VOC paints
If you are thinking of doing a home renovation project such as paint job, then always pay attention to the chemical composition of the paint to be used. Some paints contain high VOC (Volatile Organic Compounds) which are detrimental to your health such as eye and respiratory tract irritation, headache, visual disorders etc. These symptoms, however, depend on how long you have been exposed to the pollutants. To keep your home free of such chemical pollutants, always check that the paint has low VOC which are durable and safe.
Pest free home
Pests are always undesirable in any living space whether you live in a small apartment or a luxury apartment. Take caution and maintain your apartment so that it does not become a nest for uninvited pests in your home like roaches, rodents and bugs. For this you have to pay attention to apartment cleaning habits, such as regular cleaning, sweeping, taking out trash etc. You should also keep your apartment clutter free which will help you to achieve a well-organized and clean apartment for healthy living.
Live with nature
A home is incomplete if it does not include greenery. With the burgeoning real estate in Dhaka city, sights of greenery are very few. So how about creating apartments with garden? Most apartment complexes in Dhaka have open zones like open terrace, verandahs and so on. You can find creative ways to add plants and greenery in such places to invite greenery. Go the extra mile and add a potted plant in your apartment living décor or place a vase of fresh flowers in unexpected places such as bathroom sink, kitchen windowsill etc. These will not only break the monotony of your apartment décor but also provide a dose of healthy living experience in your own home.
With these easy apartment living tips and tricks, you can ensure a healthy atmosphere in your home where you and your future generations can grow. Are you looking for apartments with healthy living environment? You can browse through bti properties for sale to initiate your search.