A little bit of fresh air in the open terrace is necessary after staying crammed up all day in your apartment, or after a busy day at work. Reading a book, watching the sunset, playing guitar, or simply daydreaming are just some of the things that people do on an open terrace to escape a monotonous daily life. You can make your open terrace space even more functional and cozy with these low-budget decoration ideas.
Add More Greens
Nothing beats the calm and soothing effects of lush plants on our wellbeing. It does not have to be limited to flowering plants. You can also plant herbs for fragrance. Lay plenty of white pebbles on a specific portion of the terrace and then place plants on top for a unique look. Choose a variety of colors. You can also use railing planters which come in different shapes, colors, and sizes. Plants typically used in railing planters are small shrubs or vertically hanging plants, which create a very elegant look. For a bigger open terrace space, wooden planters are a better option. 
Create Dining Facilities 
Our country has a knack for entertaining guests, and usually, they come in great numbers! So if your home lacks space, you can convert your terrace into a mini dining room as well. A foldable table or a simple and minimalistic table will look great. To save space you can opt for a circular table with four chairs. Have it custom-made depending on the size of your terrace. You can also enjoy your evening tea or read the morning newspaper here.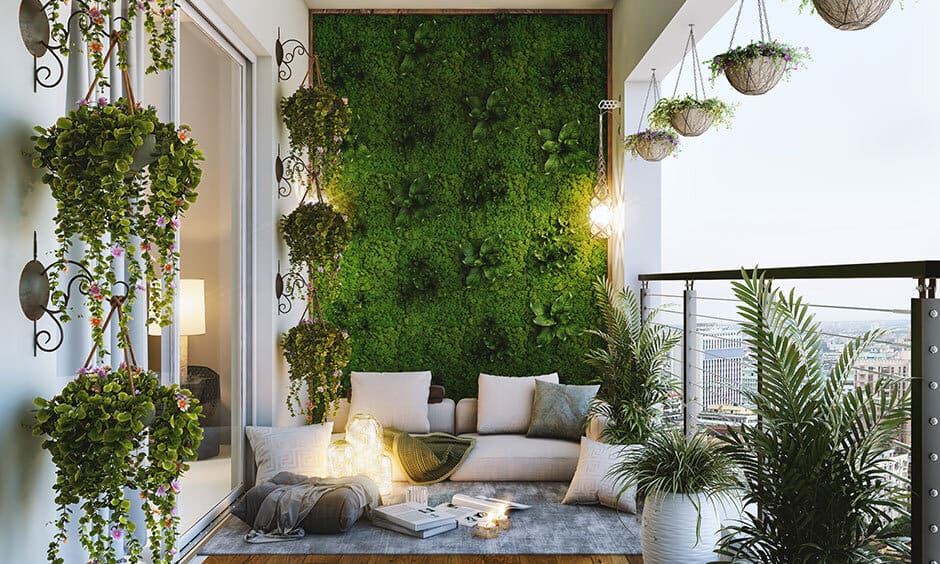 Use the Wall
You can bring a more serene look to the terrace in your home by decorating the walls. Floating planters are a great option. Use hooks to position the potted plants on the wall and that is it pretty much. By using the wall you can save a lot of floor space. Not a fan of flowers? Use creepers dangling from the walls for a more exotic and wild outlook. However, hanging photos, inspiring quotes, and artwork in addition to plants also help to spice up the wall.
Arrange Lounge Area
Your open terrace can be a space where you can be cozy and comfortable with your loved ones, simply with the addition of casual furniture. Add lounge chairs, or tatami mats on the floor, stylish rugs, and pillows for extra comfort. Place a rocking chair or hang a swing if you want a little bit of fun. This option is great if you have children at home. Bright colored patio furniture may be hard to find but not impossible. See if they are available. 
A large umbrella over the seating arrangements will provide shade and look amazing. Blocking the sky view in an open terrace is a bad idea because it defeats the purpose of the terrace itself. However, if you want it, go for a translucent false ceiling made of wood and fiber.
Light It Up
An open terrace is incomplete without the strategic positioning of lanterns and fairy lights. If you have a bigger terrace, you can use larger lights. Fairy lights are great for a sparkly look on the walls and plants. They also come in different colors, shapes, and sizes. Twist them around your plants and decoration items for a festive look.
Design the Floor
The floor can be covered with artificial patches of grass or beautiful rugs. While the turf of grass will look wonderful with plants, if you have a strong furniture game going there, a classy thing to do would be to incorporate a wooden floor. Many shops in Dhaka offer carpets appearing like wood, which are even more affordable. You can also use wood as a means to elevate a portion of the terrace where you can keep ceramic vases and flower pots.
Grill and Cook
The terrace can be a great area for BBQ food and a bonfire. You will need a portable grill station and cooking experience to pull off a successful BBQ event here due to the limited space. The terrace can also be converted into an open mini bar where you can keep your drinks. Take necessary precautions to ensure fire safety in this case.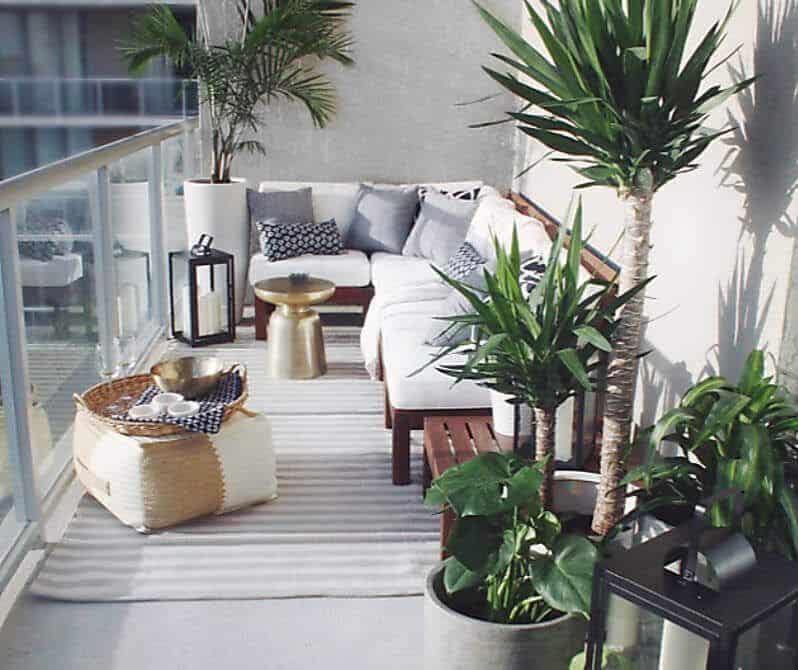 In Dhaka, there is an increasing demand for open spaces, which are usually provided in terraces. An open terrace is a space for relaxation and relief. It should look appealing and inspire the wellness of the apartment residents. While it is difficult to decorate and fit all ideas into a limited space with a limited budget, do not discourage yourself from experimenting. You can settle for a particular theme. For example, if you want a European touch, use Victorian-themed furniture and plant roses. See what looks great for your terrace and choose accordingly.