If you want to add personality to your living room decor, one easy trick is to have a statement wall. It will attach a unique feel to your home and can be used as a dramatic focal point to attract visitor's attention. Here are 5 creative statement wall ideas for adding a fun element to your apartment interior design.
Wallpaper accent statement wall
One of the easiest ways to add a statement wall is to use wallpaper to create a stunning visual effect. You can find wallpapers with versatile design and patterns to suit your style. You should keep in mind the overall interior design of your apartment and choose a complimentary theme. For instance, interior design experts suggest choosing wallpapers in neutral colors such as silver, gray etc to add elegance to your living room décor. You can furnish the statement wall with a mirror and console table to make it look cozy and apartment friendly instead of leaving a blank space.
Painted statement wall
If wallpaper is not your thing, then you can stick to the old-fashion wall paint and achieve a similarly stunning statement wall. The downside is that painting a statement wall can be time-consuming but it is cheaper and more durable. You should choose paint color that is consistent with overall wall color of the living room decor. For instance, try to use colors of the same hue, such as if you have an off-white living room, you can use darker or lighter shade of the same color and add texture to make it visually appealing.
Statement wall with wall mat or quilt
If you want to have a cozy apartment, then adding a statement wall to your living room décor using wall mats or quilts can be a fine decorating idea for your living room. This is specially a smart statement wall idea if your apartment size is small. Use wall mats or quilts with patterns and vibrant colors to instill warmth to your apartment décor.
Gallery statement wall
A gallery statement wall can be a fun way to display the special memories of your life in your apartment living room. The photos can even make for great conversation starters when guests come to visit your home. You can decorate the wall by hanging stylish photo frames of various geometric sizes. However, you should note not to hang too many pictures as it can make the room feel cluttered, especially if you have a small apartment. Try to keep it to a maximum 5 photo frames with variation is shapes and sizes.
Statement wall for the bookworm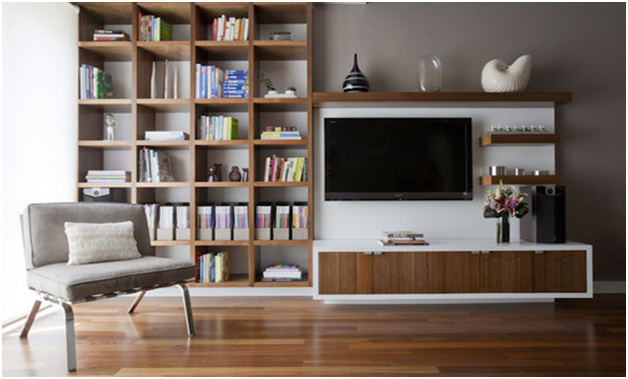 If you are book- lover and want to show off your geeky side, then adding a statement wall full of books can be the best thing for your apartment living room décor. Moreover, you can try this living room decorating tip for any apartment size, be it a luxury apartment or a tiny home. For small spaces, adorn the statement wall with narrow shelving units and if you have a spacious, luxury apartment in Bangladesh, then you can dedicate an entire wall space to books you have collected over a lifetime.
Feeling inspired yet? Hopefully, these creative statement wall ideas will gear you to create a stunning living room décor that speaks to your personality and impresses your visitors. You can also consult bti interior solutions for creating the perfect statement wall in your home.