When you live in an apartment, you should ensure that it is well maintained and decorated aesthetically to give you a comfortable apartment living experience. Little changes can make a world of difference to your home. Here are a few simple kitchen and bathroom upgrades which will add efficiency to your home and make your life simpler:
For your kitchen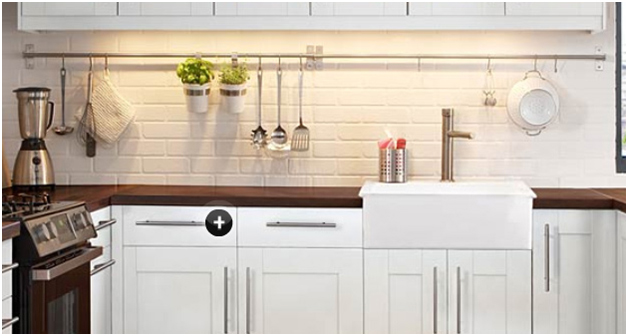 Add a kitchen utensil holder on countertop
Rummaging through cabinet drawers or racks can frustrate you, when you are cooking your son's favorite dish or catering to 20 house guests. One easy and cheap kitchen upgrade is to add a utensil holder to your countertop. This way, all your spatulas, ladles, spoons and whiskers will be right within your reach when you need them. If your apartment size is small, then you can mount a bar on the kitchen backsplash to hold the utensils and save storage space.
Use a single shelf
Instead of having closed upper wall cabinets in your kitchen, add a single wall shelf on your backsplash to place the essential items like pots, pans, lids, jars etc. This will not only add breathing space to your kitchen design but also make it easy to find what you are looking for.
Set up a "cooking prep" station
Just like you have a work station to make your work organized and efficient, allocate a portion of your kitchen space as "cooking prep" station. If your apartment design feature does not include a spacious countertop, for convenience, you can set up the station near the countertop or kitchen sink. Here you can chop vegetables, marinate dishes, peel fruits, etc before you start cooking. This can be a small table or for better space utilization, you can also use a folding table which you can stow away after cooking is done.
For your bathroom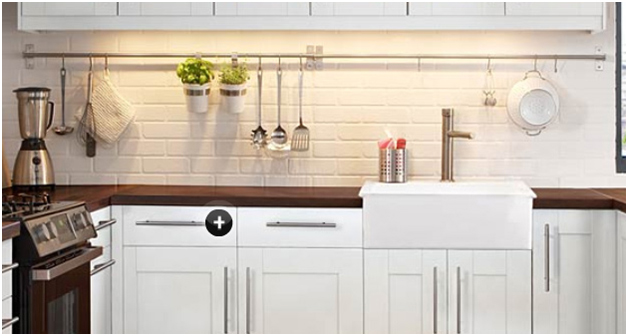 Add task lighting
Lighting is often an integral but overlooked element when it comes bathroom interior design. Make sure your bathroom is well-lit but not too bright as it can ruin the bathroom décor. One of the simple yet effective bathroom décor ideas to allow ample illumination is to incorporate wall sconces as task lighting. Place them beside the bathroom mirrors so that washing hands or flossing can be done easily under sufficient lighting.
Maximize storage
If you live in a small apartment but have a large family living with you, then your bathroom might be overstocked with personal toiletries for each member.  To fit in everything, you can add a corner wall shelf which is nifty yet a great display for storing the bathroom essentials. This way, you can also find what you are looking for easily. If you have kids, store his or her bathroom essentials on the lower level so that they can reach comfortably.
Add a footstool
Adding a footstool can do the trick if you have kids who cannot reach the bathroom vanity, so that they can brush teeth or wash hands properly. When not in use, you can place towels or baskets of toiletries and use it as a make shift storage place for small bathroom design.
Hopefully, with these simple kitchen and bathroom upgrades you can turn your home into a functional space where life is comfortably pleasant. If you have any more tips and tricks for bathroom or kitchen upgrade, don't forget to comment below.
You can also contact bti interior solutions for easy kitchen and bathroom upgrades for your home.